Own the future of molecular testing
For blood screening and other applications that require very high throughput, the cobas® 8800 System can run up to 960 tests in an 8-hour shift—4,032 tests in 24 hours—with only 3 user interactions and up to 4 hours of walk-away time per run. *
*May vary based on workflow demands.
Very high throughput, very little operator interaction
Transform your testing experience
Offering highly efficient workflows from sample processing to result interpretation, the cobas® 8800 System puts the future of molecular testing in your hands. Our broad assay menu is held to the rigorous performance standards you expect from Roche, and our real-time PCR technology delivers reliable results every time.
Meet the growing needs of your lab
A fully integrated and automated system for sample preparation and real-time PCR, the cobas® 8800 System is designed to be readily integrated into the laboratory workflow from pre-analytic to post-analytic solutions.

Unparalleled performance
Rapidly complete your daily testing requirements when you generate trusted, reproducible results.
Fastest time to result—up to 96 tests in about 3 hours
Unprecedented throughput—up to 960* tests in an 8-hour shift
Minimal hands-on time—only two user interactions

Absolute automation

Ready-to-load reagents do not require thawing, mixing or pouring, while radio-frequency identification (RFID) and barcodes ensure full traceability from sample in to results out
Automated onboard storage and refrigeration system enable ready access and maintain inventory of consumables and reagents
Uni- and bi-directional laboratory information system (LIS) interface simplifies order and result handling
Connect up to 6 cobas p 680 instruments for automated pooling, sample archiving, and workflow traceability
Learn more about the cobas p 480 Instrument and our other pre-analytic solutions
*May vary based on workflow demands
Unmatched flexibility

Mixed testing makes it possible to perform up to 3 tests in the same run with no pre-sorting required
Optimise sample utilisation, processing up to three different tests from a single patient sample
Simplify workflow using universal processes, consumables and reagents so you can run any test any time you want
Meet your needs today and in the future with a broad and expanding assay menu
Handle high-priority samples quickly and easily with a dedicated priority lane
Full laboratory automation, unrivaled efficiency
The cobas® 8800 System has the ability to connect with pre- and post-analytic instruments, as well as those associated with other disciplines using cobas® connection modules (CCM).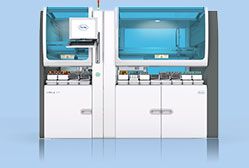 Pre-analytics
Reduce manual handling for improved quality and safety
Other disciplines
Include serum work area (SWA), urinalysis, or haematology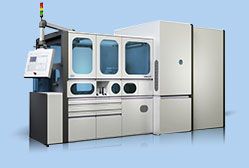 Post-analytics
Facilitate fully-automated sample retrieval for add-on testing
The future of molecular testing is in your hands
Based on the Nobel-prize winning PCR technology, the cobas® 8800 System is designed to be readily integrated into laboratory workflow from pre-analytic to post-analytic solutions, while transforming the way molecular testing is performed.